News
2019 Old Webster Jazz & Blues Festival Musical Lineup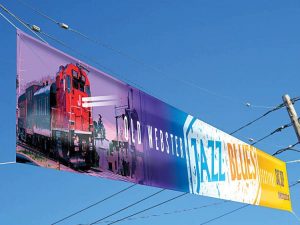 Webster Groves' biggest music event returns on Saturday, Sept. 21, with an electrifying lineup of the region's best local jazz, blues, funk, rock, and soul musicians. Music runs from noon till 10:45.
"This year promises to be the biggest and best event yet. We're bringing back longtime crowd pleasers like our friends Marquise Knox along with new favorites like Jeremiah Johnson, who's making his festival debut this year and closing out the day's performances," said Brian Ward, musical director for the festival….
---
ZZ Top taps St. Louis blues star Marquise Knox to open tour dates with Cheap Trick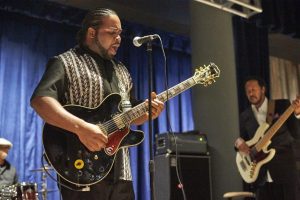 By Kevin C. Johnson | Post-Dispatch pop music critic
Marquise Knox is a steady presence on St. Louis' music scene, serving as a vocal ambassador for local blues.
As a 16-year-old, Knox opened for B.B. King in 2008 at Family Arena. He's also performed internationally and has opened for the likes of Willie Clayton, Latimore, Kenny Neal, Barbara Carr and Carlos Santana.
But one thing he hasn't done yet is tour with a national act….
---
Phat Buddha Productions Signs Deal with Knox Entertainment
Media Collaboration Aims to Create a New Worldwide Hub for Blues Music in St. Louis
ST. LOUIS – eMusicWire — St. Louis-based Phat Buddha Productions and Knox Entertainment have just inked a deal that aims to revive the great legacy of blues music in the Gateway city. Phat Buddha Productions, which is the premier recording studio in St. Louis, will provide production, marketing, and media resources for Knox Entertainment's top blues talents of today and tomorrow, starting with local blues master Marquise Knox…
---
Marquise Knox Closes Out Year #21 of Blues in The District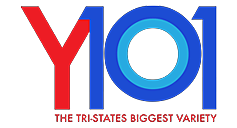 It seems like yesterday when the calendar turned from winter to Spring in late March. I sat in my office thinking "when is the first week of Blues in the District?" I found out it was June 14 when the first scheduled act of the summer was to take to the gazebo stage. I even counted the days until I would be sitting next to "my" rock in Washington Park for that first night. Well, 86 days went by and there I was listening to Harper & Midwest Kind enjoying a wonderful evening outdoors with a few thousand others. It was the first of 6 scheduled acts to perform this summer….
---
Gateway Arch Park Foundations Blues at the Arch: Marquise Knox and Taz Niederauer
ST. LOUIS – The Gateway Arch Park Foundation and National Blues Museum are bringing back Blues at the Arch – a free concert series, presented by Emerson – featuring amazing Blues artists…
---
Marquise Knox: 'I'm a good man. I'm a poor man. But I'm a bluesman. Do you understand?'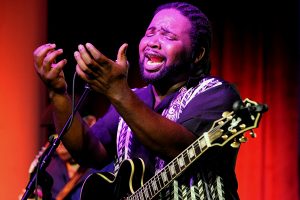 KDHX presents Marquise Knox: Live From The Listening Room at The Stage, sponsored by the Big Muddy Blues Festival, on Sunday, August 5 at 8 p.m. A portion of the show will broadcast live on air on "Nothin' But The Blues" with Ron Edwards.
When the 14-year-old Marquise Knox exited BB's Jazz, Blues and Soups stage at the Baby Blues Showcase the audience screamed for more. The 2005 performance announced to St. Louis that a prodigy had arrived. Over the next decade, mentored by the best of the old delta bluesmen, Knox would hone his musical, songwriting and stage skills while surrounding himself with some of the best musicians in town. Now, at age 27, the prodigy days are over. The fully formed bluesman has arrived…
---
Blues Blast Magazine Featured Interview – Marquise Knox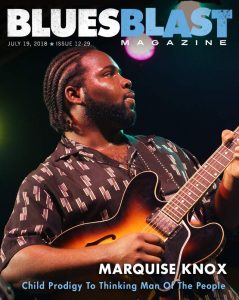 Throughout the recent history of the blues, dozens of players who are barely into their teens have emerged from the masses, attempting to stake their claim as stars for future generations. Most of them streak across the heavens and disappear into the void from which they emerged. But virtually no one is making the impact of St. Louis-based singer/guitarist Marquise Knox…
"The world don't owe me nothing," he says. "I ain't never felt no kind of privilege in this world. Mules have kicked me, but didn't damage my pride. The rattlesnake bit me, but just crawled off and died. I represent St. Louis blues like no other. I am the blues
….
---